I was never one of those artists who carried around a sketchbook. I am not sure why but I can say I was intimidated by the perfection of a sketchbook- the binding, the pages, the potential of each crisp white page. Would I make something worthy? In truth, I was more of a sketch-on-a-napkin sort of girl. I drew on the brown paper covers of my school books, on envelopes, and even on my hand at times. After teaching for 20 years I returned to school for a degree in graphic design and I did finally develop a tentative relationship with sketchbooks. Thinking through ideas, compositions, color schemes, and documenting the feedback on projects all in one place helped me tremendously. I see the value of sketchbooks for all creative people; a place to express oneself privately, experiment with ideas, and document what we see in the world that surrounds us.
As a teacher, I found value in those sketchbooks too for my students. At the beginning of my teaching career, I avoided sketchbooks. They seemed an unnecessary expense for students. In time, the idea of sketchbooks won me over. Plus. they were buying notebooks for math and science, why not the equivalent for art?
It doesn't have to be expensive
So, let me talk about physical options for sketchbooks. You could make your own, instructions here. An excellent YouTube video on making simple sketchbooks with no fancy equipment can be found here. Making your own is a fun way to start the year at a super low cost. Many teachers who make or order custom sketchbooks use to start with a blank cover that students design as a first activity. Two other trends that have emerged include making your own with pre-printed pages you can insert in advance, or some with clips that allow the student to open and insert new pages as needed. A second trend is digital sketchbooks. Some are just Google Slide shows as this teacher developed. If you work at a school with iPads or tablets, you can use Procreate to keep a digital sketchbook, as this teacher shows you how.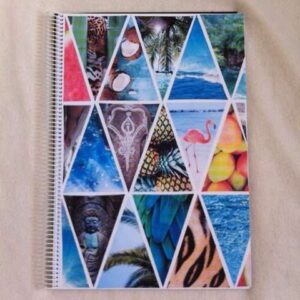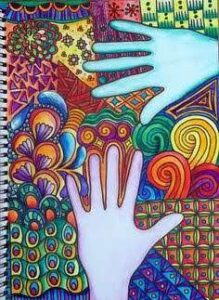 Cover examples from Ms. Mack's Art Classroom
I used to buy sketchbooks in bulk and have them sold at the school store. You can buy in bulk from a store like this website and Etsy Shop, Beech Tree Paper, which sells sketchbooks like this one. You can buy 25, 50, or 100 standard kraft brown blank page notebooks for $1.60 each plus shipping. The sketchbooks measure 5 x 7 inches with 75 GSM white pages good for writing or drawing with a ballpoint pen or pencil. Beech Tree Paper will also provide a quote for larger orders and is customizable with more pages or a custom-printed cover.
Other bulk options can be found on Amazon.
36 Pack Blank Spiral Notebook Unlined Spiral Notebook Bulk It comes down to 1.19 each!
170 Blank Kraft Notebooks for $51.99, that's roughly 31 cents each!
There is a business called Sketch for Schools that has an educational sketchbook program for schools. You can sign up for a free sample here. There are different quality paper and colors, you can have custom books made with varied toned papers and you can even customize the covers for different prices. You certainly could ask students to purchase their own but if you plan to store them in the classroom having a standard size is very convenient. These options could even slip into a portfolio or storage tote. I can say from experience that store-bought metal spiral-bound notebooks are both bulky, difficult to store, and tend to fall apart if carted around in a backpack.
*Please note I have no affiliation with these businesses and am receiving no perks for writing about them here.
Once you have sketchbooks, now what?
There are as many approaches to sketchbooks as there are teachers. I had a colleague who simply asked that her beginner high school students spend ten minutes drawing in their sketchbooks with the belief that practice skills would improve. In my classes, sketchbooks became the place to practice, take notes, document work, write homework, execute homework, show research, and more. Older students had more complex prompts and expectations. My advanced students also tended to use sketchbooks for their own pleasure as well. The Advanced Placement exams now require process work shown as part of the exam, reflecting a trend in art education in the value of process work.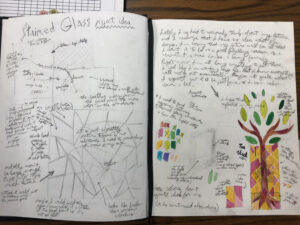 High school art teacher Jodi Brzezinski uses her sketchbooks daily. She writes, "I actually teach my student to bind their own books to use all semester. We do a daily journal/creativity exercise, planning for projects, and daily reflections." Brzezinski has 82-minute periods and her creativity exercises are not unlike bell ringers. She also does mind mapping, the sample shown here. Another use she mentioned was a place to write project reflections. A reflection could look like answering a simple question like, "What was the biggest challenge you encountered on the project?" This is a great way to demonstrate writing in your curriculum. Other teachers report sketchbooks for substitute days and early finishers.
I would assign graded sketchbook work weekly. Sometimes the sketchbook work was classwork, often process work that would tie into a project. In the illustration to the side, you can see how a negative space drawing in a sketchbook grew into the design next to it, spelling out ducky in sign language. Other times I would assign a creativity exercise that students would have some time to complete.
I think the most important thing is to use them. Make sketchbooks a habit for yourself and your students.
Resources for sketchbooks:
https://artprof.org/learn/premium-courses/workshop-sketchbooks/
https://www.artistsnetwork.com/art-techniques/artist-sketchbook-key-better-art/
https://mymodernmet.com/art-sketchbooks-vol-1/