As an Amazon Associate, I earn from qualifying purchases.
As a department chair, it was both my honor and privilege to give out awards to art students at my school. In my first year, I carefully picked out lovely medals (I like these medals, https://amzn.to/3FxYQVS (image 1) sold in a ten pack on amazon) and certificates (I like these https://amzn.to/3Pb0mBL and https://amzn.to/3wiF3Wf plus holders that you can order in your school colors, https://amzn.to/3Fy2tuO) for my winning underclassman students. These were students that had entered and been recognized in various competitions like the Scholastic Art Competition and Congressional Art Show. We acknowledged these winners at an assembly at school. The morning of the event I had my awards in small gift bags on my desk, all ready for the award assembly. A student asked what they were and I explained it was a small gift for the award recipient and she asked excitedly, "Is it chocolate?" She looked profoundly sad when I explained it was only a medal. So, the next year, remembering her excited face I decided, that a little chocolate was a must. I was able to buy a chocolate palette through a local chocolate shop (like this one at Etsy in image 2) to go along with the medal, which was enjoyed by my students.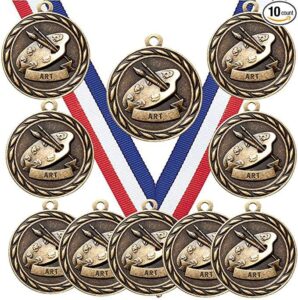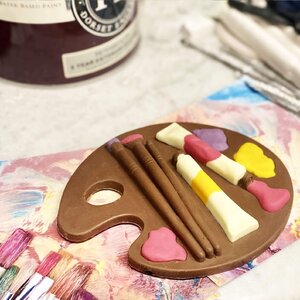 Get Creative with Your Awards
I'm not the only one getting creative though. There are many ideas for awards that we creative art teachers have come up with. Art teacher Carol Messenger Haggerty's "Golden Paintbrush Award" (image 1) was created with drawing mannequins (https://amzn.to/3w0kajB) painted metallic gold. Art Teacher Elise Wheatley also makes her own awards but from palettes (images 2,3). Wheatley shared, "I used metallic gold spray paint. I found the gems at Micheal's and hot glued them into place. Once they were dry I write the award information and year on them in sharpie." Another homemade favorite that I have written about before is high school art teacher April Eason's awards (images 4,5). She recycles old trophies into special awards each year. Easton reports, "The kids actually fight over them while I make them during class." Stacey Deters Zerrusen also creates her own (image 6), spraying and mounting palettes to a wood board and adding the lettering. She uses a sign company for the lettering but cutting vinyl lettering with a Cricut is another option.
Book Awards
Occasionally schools give "Book Awards" to students. Or instead of a trophy, ribbon, medal, etc, you may choose to honor a student with an inspiring book related to art. One teacher uses sketchbooks she adds inspirational quotes to the cover. A leather-covered sketchbook is also a handsome gift most artistic teens would enjoy. A book that came recommended by art teachers is Neil Gaiman's Art Matters and Art that changed the World.
Class Awards and Seniors
Within your own class, you can have a little more autonomy and fun with awards. Trista Johnson gives out certificates (image 1) with awards like the "Chuck Close Award, For the Most Realistic Drawing and Painting." A slide show with photos you have taken all year can be another fun way to celebrate a class's accomplishments without competition.
For special seniors, I have seen teachers gift mini sketchbooks (image 2) with a personal note inside for each senior. Another art teacher gifts seniors with small art palette pins (image 3) for their graduation gowns. I also recently read about a teacher who has her Art Club weaving cords for their senior members' robes with a small paintbrush charm on the end. Art teacher Jess Perry-Martin makes cords herself (image 4) for her Advanced Placement AP students to honor their hard work. Another option to recognize students who have been mainstays in your art programs is simply buying cords, like this rainbow cord.
Do you have any special awards? Unique gifts for seniors? Share in the comments or email us at info@myartlesson.com.