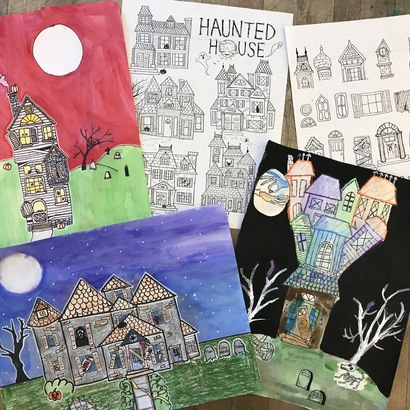 Grade Level
7-8
---
Duration
5 Class Periods
---
Materials
Art With Trista YouTube Video Tutorial
Haunted House Handout
Haunted House Slides
Drawing paper/ watercolor paper
pencil
watercolors
colored pencils
Sharpies (ultra-fine & fine)
---
Media
Watercolor, Color pencils
---
Lesson Objectives
The student will be able to…
learn about the roles and responsibilities of an architect.
use multiple resources to make a sketch and plan of a haunted house prior to the final drawing.
demonstrate creative decision-making by including several architectural details and "spooky" details to fill the space around the house.
---
Introductory Activity
Learn a few fun facts about Antoni Gaudi and take a look at his architecture. Students compare and contrast different architectural structures created by Gaudi. Lastly, students explore the roles and responsibilities of an architect.
---
Lesson Process
Preview "Art With Trista – Haunted House" art tutorial (see resources). Make a sketch (like a draft or blueprint) of your house and plan the architectural details and spooky additions you will add. Use the "Haunted House" handout to help with ideas and planning, but do not copy exactly – be creative! Begin on the final paper. Consider the environment and composition of the house on paper. Add line weight variety to larger building structures and items in the foreground. Use watercolor (wet on wet technique) to make an eerie sky. Use colored pencils to add color to the house and details.
* More detailed steps available in a lesson plan on TPT.
---
Vocabulary
space, creativity, Architect, Architecture, Sketch
---
Resources
https://www.youtube.com/watch?v=idIkRnU6REU
https://www.teacherspayteachers.com/Product/Haunted-House-Drawing-Lesson-Antoni-Gaudi-Architect-As-A-Career-7327266
---
Author & Website/Blog
Trista Johnson, https://www.teacherspayteachers.com/Product/Haunted-House-Drawing-Lesson-Antoni-Gaudi-Architect-As-A-Career-7327266
---
Supporting Images