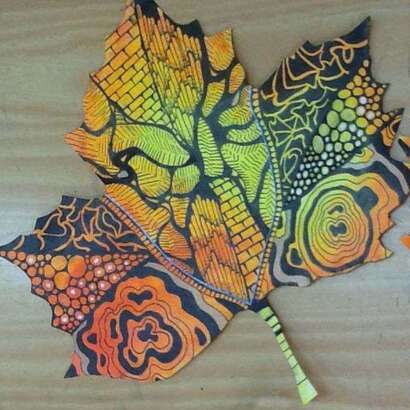 Grade Level
---
Duration
Five classes, 40 minute class periods
---
Materials
Cardstock, scissors, acrylic paint or acrylic ink, leaves for observational studies, drawing paper, or use sketchbooks (if your students have them), black fine line pens like Sharpies, metallic markers
---
Media
Mixed media
---
Lesson Objectives
Students will…
practice their observation skills by drawing and shading leaves.
learn about artist Gustav Klimt and his work.
will create a Klimt-inspired fall leave through imitating his style with their understanding of his use of color, shape and pattern.
---
Introductory Activity
On the first day, students first made an observational study of a fall leaf in class in their sketchbook concentrating on shape and line. Students were encouraged to use light sketch lines until they were happy with the shape before putting more firm lines in place.
For homework, students do a tonal study of a leaf.
In the second class introduce students to Klimts paintings "The Kiss" and "Portrait of Adele Bloch Bauer" using Visual Thinking Strategies. The students are asked, "What do you see? What do you see that makes you say that? What more do you see?"
Students are provided small colored images of the two artworks to place in their sketchbooks. Students drew in sketchbooks replicating some of the patterns they
observed and annotated for homework using the information discussed as a group in class.
---
Lesson Process
On the third day, the teacher supplied leaf templates to students who worked in groups of 5. Their goal was to ensure five leaves were obtained from each large sheet of cardstock. Students learned to be economical and not wasteful of materials. Leaves were cut out. Students were asked to divide the leaves into sections using a pencil. Students were given warm colors (red and yellow) acrylic paint or ink and encouraged to blend to achieve vivid autumnal blended colors.
For two periods students referred back to Klimt's work and created a plan to use different lines and patterns in each section of the leaf using black fine liners. Metallic markers were also made available and students were encouraged to use them sparingly in completing their leaves.
The teacher then used these leaves to create a tree display at the school.
---
Vocabulary
shape, pattern, line, colour, tone
---
Resources
https://content.myartlesson.com/fall-leaves-template/
About "Visual Thinking Strategies," https://www.watershed-ed.org/
The Kiss, https://en.wikipedia.org/wiki/The_Kiss_(Klimt)#/media/File:The_Kiss_-_Gustav_Klimt_-_Google_Cultural_Institute.jpg
Portrait of Adele Bloch Bauer, https://en.wikipedia.org/wiki/Portrait_of_Adele_Bloch-Bauer_I#/media/File:Gustav_Klimt_046.jpg
https://www.pinterest.com/myartlesson/klimt-patterns/
---
Author & Website/Blog
Grainne Holmes
---
Supporting Images
Comments