Every generation has events they experience collectively that leaves a mark. Man landing on the moon was one. Nine-eleven is another. We can now add Covid-19 pandemic to the list. The pandemic has now stretched out over a year and has taken a toll in ever facet of the human experience. In our dual roles as artists and educators we find ourselves in a unique position to ask, "What has it been like to be a preteen or teenager during the first year of a historic pandemic?" In our classrooms and curricula we art teachers have provided the space to ask and the tools and voice for our students to respond.
"Every time I have had a problem, I have confronted it with the ax of art."
-Yayoi Kusama
Today's post is an intimate glimpse into other's classrooms to see what is happening. Thank you to the art teachers who kept teaching and providing students the resources to cope with the pandemic through art. As artist Yayoi Kusama once said, "Every time I have had a problem, I have confronted it with the ax of art." Thank you especially to the teachers who shared their lessons and student responses for this post, showing us how art educators have wielded their artistic powers for good. No historic event has gone without artistic reflection and covid lockdown has driven many to cope with creativity.
Graphic Design Tonya Abernethy Geese had her advanced Graphic Design students study a graphic design movement then use current events to create a Poster that reflected that particular style. Her student's inspiration was Flat Style in the first example below. Teacher Aryn Murtha's students also made posters for Covid in different art styles. Her student was inspired by art nouveau in the second example below. Graphic Design teacher Jessi Lynne had students make serious or fun public service announcements for Covid-19 in the third and fourth example. Another teacher reported having students design quarantine post cards. Find commercial examples here.
Photography What better media to document Covid and capture a student's perspective? Teacher Shannon Oden wrote, "I gave them this assignment mainly because of the historical significance but more so because I was worried sick and missed them. I wanted to make sure they were ok, I wanted them to share their perception of the pandemic and their experience with me. I'm even more blown away that the majority of these kids came into the program in January in Photo 1 and only had 7 weeks of training before we left for spring break and never returned."
Painting and Drawing The images below are from teacher LynnMarie Paris and her Advanced Art And Design I students this past Spring. Students worked from the prompt, "My Present State of Being."
Rebecca Shannon's middle school students made masked self portraits and Keith Haring inspired Covid drawings.
No Response. I want to mention that no response is an acceptable and valid response too. One of the gifts we can provide our students with is routine and normalcy. While so much of our day has been disrupted, sometimes a student can find comfort in lessons that have nothing whatsoever to do with Covid.
Looking for more inspiration?
Check out the varied responses at Voices of Youth with art like this, made by Diitka Laya Kashyap.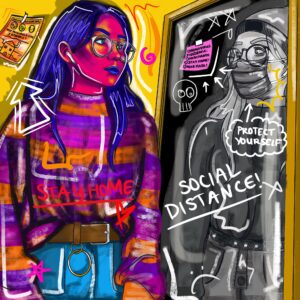 Check out this New York Times article with pieces like Ryan Daniel's.