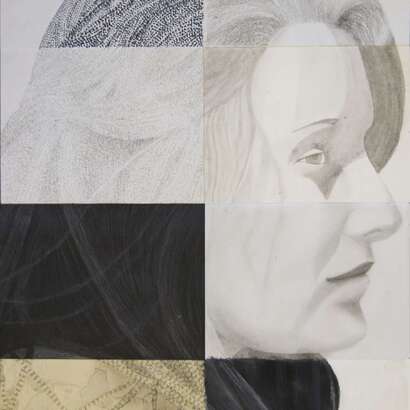 Grade Level
9-10, 11-12
---
Duration
10 periods, 45 minutes in length
---
Materials
Students were given access to a variety of materials including tempera, acrylic, pen and ink, charcoal. watercolor, micron pens, etc.
---
Media
Mixed media
---
Lesson Objectives
To create a self portrait using a different value for each of the eight segments. These pieces actually fold up into a book that can be flipped through in a sort of abstract form or opened up to see in its entirety.
---
Introductory Activity
Student did value scales with a variety of media and techniques in preparation for the assignment. While student =s worked on these value scales, students also used a digital camera to take headshots of each other. we spent one day in the art program's graphic lab cropping the images to desired size, editing for good value range and printing the images out.
---
Lesson Process
Students were shown an example and folded their printed images in half vertically and then in half horizontally and then once more in half horizontal for a total of 8 divides. Students then took their final papers and did the same. with good sharp creases and folds. Show students where to make a cut (see supporting images) to collapse into book form for storage.
Students carefully translate their image from photo to paper. Depending on the classes level and drawing skills this can be done in a variety of ways. For advanced students, have them use the folds like a grid in grid drawing to translate information block by block. Some students might benefit from using other ways to transfer content, a light table or tracing paper transfer method. In the last who you would need to print the photos the same size (often using two sheets and piecing them together).
Students then selected different methods of applying value to create portions of the final image. In some instances students might opt to create a negative of the image or work on black paper (simply cut and mount onto desired segment).
---
Vocabulary
collage, stippling, crosshatching. value, value chart. blending, negative
---
Resources
---
Author & Website/Blog
---
Supporting Images