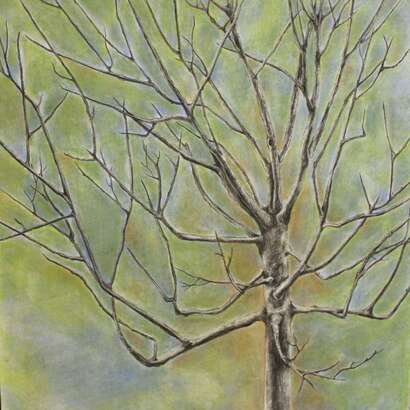 Grade Level
11-12
---
Duration
10 classes
---
Materials
Heavy Drawing Paper 18″ x 24″
Drawing Pencils
Oil Pastels
Caran D'Ache Watercolor Crayons
---
Media
Pencil, Wax crayons, Oil pastels, Paper
---
Lesson Objectives
Students will observe and accurately draw a tree in nature.
Students will abstract their drawings based on research and study of Mondrian's Tree series.
Students will make choices for the negative space in a manner consistent with their research.
Students will choose and utilize appropriate media for their desired outcome.
Students will resolve their work using dynamic compositional choices from the Elements of Art and Principles of Design.
---
Introductory Activity
Students will research and find examples of Mondrian's tree series. Students will participate in class discussion about the process of abstraction. Students will view examples of outcome from previous projects and critique design and media choices.
---
Lesson Process
Students will view and select a tree to draw.
Students will draw a series of sketches from observation.
Students will select one view of the tree to pursue for a final drawing.
Students will draw the tree on large paper while considering the placement to create a dynamic composition. Parts of the tree can extend beyond the perimeters of the page.
Students will do a series of color and media studies to select materials and techniques to create their desired outcome.
Students will apply the media to the page while allowing for exploration of materials and creating abstraction of the tree.
Students will critique their work throughout the process and adjust as necessary.
---
Vocabulary
observation, abstraction, piet mondrian, principles of design
---
Resources
The Red Tree by Piet Mondrian
Grey Tree by Piet Mondrian
Blossoming Apple Tree by Piet Mondrian
Piet Mondrian The Evolution of Pure Abstract Painting (Blog) http://wcdf-france.com
---
Author & Website/Blog
Jane Napolitano
---
Supporting Images