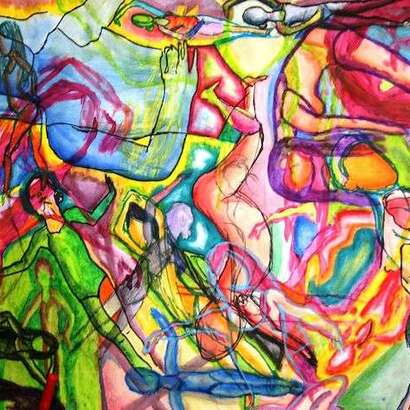 Grade Level
9-10, 11-12
---
Duration
several 10 minute sessions once a week over 7 weeks plus three class periods
---
Materials
This is a mixed media project. Use different media each week. Media may include: Graphite, pen, and ink (or permanent markers), markers, crayons, acrylic paint, watercolor, oil pastel
---
Media
Mixed media
---
Lesson Objectives
For the student to…
learn the basic proportions of a human figure
use his or her understanding of human proportions to practice figure drawing basics
---
Introductory Activity
Start with a study of anatomy. I find these are most successful when I teach a lesson on the "Art of Anatomy" first in which students study the human form through drawings of a skeleton. This is a wonderful extension and it's obvious when comparing and contrasting these lessons how much each student has learned and grown.
---
Lesson Process
If possible, create a collaboration with another teacher. I collaborated with a dance teacher but you may find other areas open to collaboration. Theater, creative writing, or even public speaking courses may have willing models. In my room, the dancers come once a week for ten minutes at a time. Depending on our schedules, the dance teacher and I have set up anywhere from six to ten sessions. Work with your teaching partner to devise a schedule that makes sense for everyone. Generally, having the dancers come at the beginning of the class works well. When I started this project, the dancers came on "Model Mondays." However, we've also had "Figure Fridays." Other times, Tuesdays worked best, so "Tutu Tuesdays" it was!
Once your dancers are done visiting, give your students the challenge of deconstructing their studies and turning them into a final artwork for a grade. This is choice based in that students could deconstruct and reconstruct their work however they wanted- any media, any substrate, and size! They loved having the freedom to take something a bit tight and make it completely their own. I give my students three days to do this in my classroom, and WOW, they go to town!
---
Vocabulary
contour line, gesture, shape, Positive and Negative Space, proportion, movement, line, form
---
Resources
Drawing the human skeleton and learning proportions, https://www.youtube.com/watch?v=GzaJS-udeDk
---
Author & Website/Blog
Debi West
---
Supporting Images