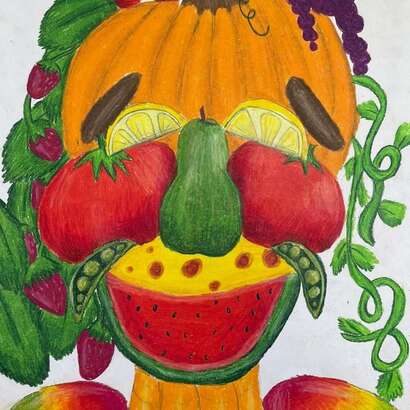 Grade Level
---
Duration
unknown
---
Materials
White drawing paper, pencil, Prismacolor color pencils, reference photos of fruit and vegetables
---
Media
Color pencils
---
Lesson Objectives
for the student to…
learn about, explore and understand the ART ELEMENTS: Lines, Shapes, Form, Color, Texture, Space, and Value
learn about, explore and understand the PRINCIPLES of DESIGN: Proportion, Variety, Balance (Symmetry), and Contrast
learn what a COMPOSITION is and how to create your own.
learn about and be inspired by Italian painter, Giuseppe Arcimboldo.
learn to create your own interesting and unique Arcimboldo Inspired Fruit and/or Veggie Portrait.
learn about and use colored pencil blending and shading techniques on your final drawing.
Create artwork that shows good craftsmanship!
---
Introductory Activity
Use the slide show presentation, linked in the Resource section, to go over the elements of art and principles of design, identify how they are used in Giuseppe Arcimboldo's work, and learn the human face's proportions. Use the videos in the lesson presentation (and listed in the Resources as well) to learn how to blend colored pencils and how to create form.
---
Lesson Process
The student will now work on creating their own
The expectation for the students are:
You MUST use a variety of fruits and/or vegetables to create your portrait!
YOU MUST color in and shade your fruits and vegetables!! Just drawing an outline of your face with the fruits and veggies is not enough!
Use good craftsmanship! Draw, color and shade neatly.
Take your time and put effort into your artwork!!!
High Expectations: Try your best to create complex designs.
Avoid drawing an outline of a head and adding shapes within it.
---
Vocabulary
line, shape, value, color texture, proportion, variety, balance, contrast
---
Resources
Lesson presentation, https://docs.google.com/presentation/d/1pzLp5FiOKzegeZrSbElV5OTEllqs–SrEQrIzW3uXjE/edit?usp=sharing
YouTube Video | Arcimboldo: Nature and Fantasy, https://www.youtube.com/watch?v=BrXhgxqHBh4&t=5s
YouTube Video | How To Blend Colored Pencil, https://www.youtube.com/watch?v=uNA1sSSMdnA&t=1s
YouTube Video | How To Blend Colored Pencils, https://www.youtube.com/watch?v=wchtknP-xoo
YouTube Video | How To Use Colored Pencils To Draw A 3D Shape, https://www.youtube.com/watch?v=hgDuEfAZa9g&t=20s
See an artist walk her audience through Giuseppe Arcimboldo inspired Food Faces, https://www.youtube.com/watch?v=5YsMCDpaUkE
More Giuseppe Arcimboldo examples, https://www.giuseppe-arcimboldo.org/Vortumnus-Vertumno.html
---
Author & Website/Blog
Tami Vernon
---
Supporting Images