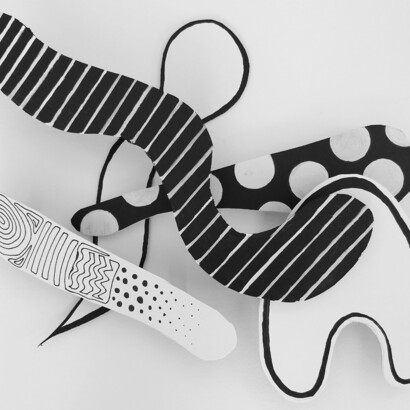 Grade Level
7-8, 9-10
---
Duration
10 periods, 45 minutes in length
---
Materials
Matboard (ask local framing shops for their scraps), scissors, black and white acrylic paint, acrylic brushes of varying size, glue
---
Media
Sculpture
---
Lesson Objectives
For the student to…
Create varying levels of depth
To explore line, shape and pattern
Practice 3D composition skills
---
Introductory Activity
Introduce students to Charles McGee. McGee created assemblages and sculptures. Talk about what they see. Some of McGees works are figurative while others are abstract. Look for an identify line, shape, and pattern in McGee's work.
---
Lesson Process
Students could work in groups or individually. Teacher can dictate the size, this project can work at varying scales. Have students draw free form shapes on scrap pieces of matboard and cut out with scissors. Paint half of them black and the other half white. Look for inspiration for patterns. Inspiration can come from fabrics, nature, art, zentangles, etc. Sketch lightly on the boards the desired patterns (use white colored pencil on the black pieces) and paint carefully with white on the black pieces or black on the white pieces. Touch up as needed. You may want to demonstrate how to use tap to create crisp edges and/or how to make and use a stencil.
When the painting is complete each student (or group) receives a white board to mount their sculptures. I cut strips of stiff white paper and created cylinders with taps that fold pack to glue underneath the patterned shapes. The length of the strips dictate the height the shape will stand off the paper. Student will want to consider staggering the heights the shapes. Think about balancing the composition.
---
Vocabulary
shape, composition, space, line, relief, depth, assemblage, patterrn
---
Resources
http://www.kresgeartsindetroit.org/charles-mcgee
https://www.detroitnews.com/story/life/2021/02/05/revered-and-preeminent-detroit-artist-charles-mcgee-96-has-died/4408210001/
https://www.pinterest.com/2SoulSisters/artist-charles-mcgee/
http://aaw3dart.blogspot.com/2011/11/abstract-relief-sculpture.html
---
Author & Website/Blog
---
Supporting Images