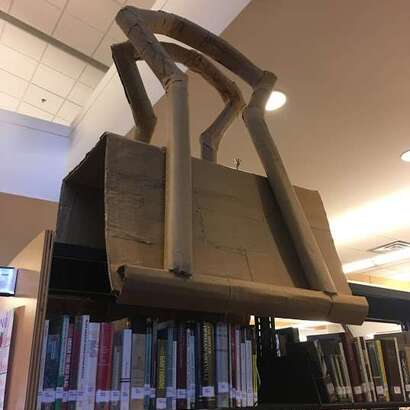 Grade Level
9-10, 11-12
---
Duration
15 classes, at 50 minutes per class
---
Materials
Cardboard, paste (half water, half elmers), tape and hot glue
---
Media
---
Lesson Objectives
Students will learn how use scale and proportions skills. They will gain group and communication skills as well as creative thinking with others.
---
Introductory Activity
Claes Oldenburg photos, videos, readings
---
Lesson Process
1.) Students will decide on an object to create and choose a location to place when finished
2.) Create plans, drawings, and roles in the group
3.) Start building, cutting, pasting and putting together
---
Vocabulary
balance, Scale, proportions, texture
---
Resources
Any Claes Oldenburg works or large sculptures the students might be familiar with around their hometown.
---
Author's Website/Blog
Colter Curey
---
Supporting Images