There are a variety of cutting plotters, or computer-controlled cutting machines you can buy these days, the most popular types being the Cricut or Silhouette machines. I have been hearing more about the possibilities of a Cricut for the art classroom. I decided to get up to speed a few months ago by taking a Cricut out for a spin from our local library's Library of Things. In case anyone is not familiar, a Library of Things is a collection of objects available for loan, such as kitchen appliances, tools, gardening equipment, electronics, toys and games, art, science kits, musical instruments, recreational equipment, and craft equipment. So, I had an opportunity to try it out. I watched a setup tutorial on YouTube and rather quickly cut Cricut's demo and then some letters that were for my own project. So, it was pretty user-friendly.
I can see lots of creative potential. My burning question, and maybe yours, is… how can I use this tool in my classroom? Some schools purchase a Cricut or Silhouette for general school use. Some art teachers use their budget to buy it for the art program. Lastly, some schools use them in maker spaces. As art teachers, I am sure you all contemplate, what specifically can we do with this equipment in the art room?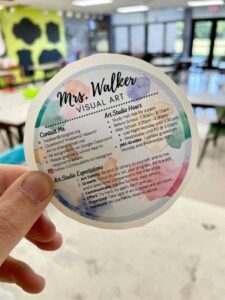 1. Stickers! You can do sticker assignments or do something unusual like art teacher Heather Walker who created her syllabus on a sticker that went on the inside cover of her student's sketchbooks. Admittedly, she didn't use a cutting machine but rather made the document in Canva as well as used their printing services to print the sticker but it could be done all in-house with a printer and Cricut.

2. Tools
Art teacher Sarah Shatto-Jones was able to give all her students packages for Covid online learning that included these tools that her colleague created using a Cricut! Another possible tool is a viewfinder.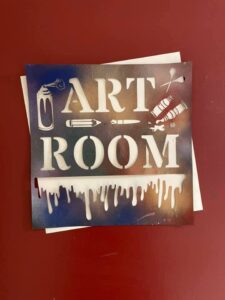 3. Stencils Stencils for printmaking (Gelli plates, monoprinting, screen printing, stenciling, etc), street art, etc. Art Teacher Lizzy Sarah created this stencil for a street art stencil project with her students.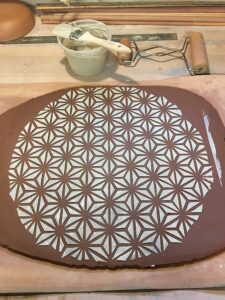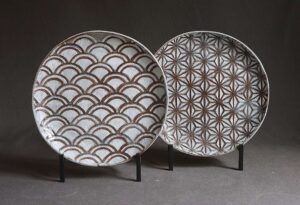 You can also use stencils with ceramics, for adding images to the wet clay or with glazes. You can see artist Mea Rhee who creates work with stencils on clay. In the first image, she embeds the stencil into a slab of clay and then brushes over them with a white porcelain slip. You can also use stencils on bisque pieces.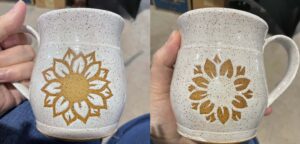 You can also use stencils for glaze as well as shown by artist Regina Williams using her Cricut.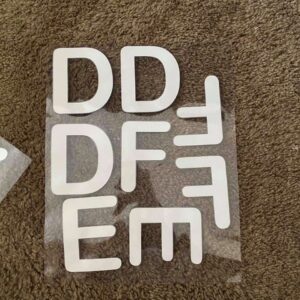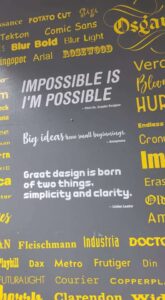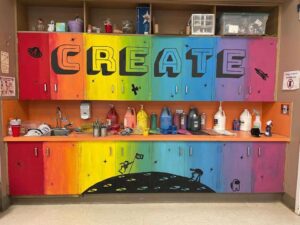 4. Classroom signage, bulletin boards, etc
Kaitlyn Lovell creates, cuts, then laminates her own letters for bulletin boards. David Block created inspirational quotes and a "font" wall with his Cricut. You can find more about his
font wall
and
resources
to create your own font wall. Art Teacher Lissy Sarah let students make stencils to add space images to their storage cabinets.
5. Cut paper projects Use your Cricut to create shape tracers for an adaptive art class, package design, tunnel books, mobiles, luminaries, and Matisse-inspired shape collages. etc.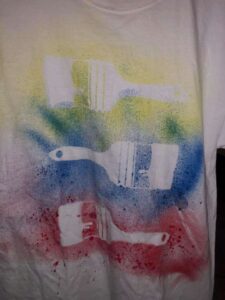 6. T-Shirts. Desirée Willson created these t-shirts with her students. The stencils were cut on a Cricut machine and she used Tumble Dye, a product you can spray, dip, or apply with a paintbrush then air dry and heat set with an iron or in a dryer.
You can also cut designs from iron-on vinyl made for Cricuts.
How are you using your Cricut or Silhouette? Leave your answer in the comments.
When you buy through links on our site, we may earn an affiliate commission. Commissions help defray the costs associated with maintaining the site.


Projects that use stencils

https://myartlesson.com/abstract-value/
https://myartlesson.com/https-myartlesson-us20-list-manage-com-track-clicku5bc15f8ba3e5966c420e18911id20be310102ed01e6e1727/