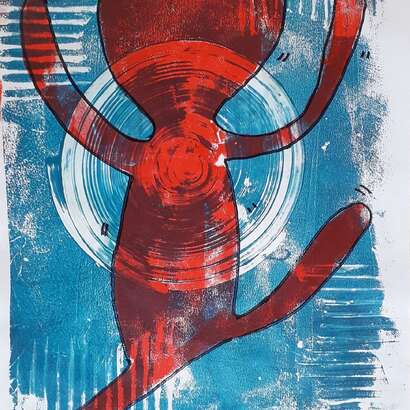 Grade Level
---
Duration
3 90 minute class periods
---
Materials
White paper, pencil, colored pencils, scrap paper (for stencil), scissors, glue, colored paper, glue, gelli plate, newspaper, objects for creating texture on the printing plate, acrylic paint, brayer
---
Media
Acrylic, Color pencils, Paper
---
Lesson Objectives
Identify elements of an artist's style.
Create a monoprint; incorporate elements of an artist's style.
Identify the tools needed for printmaking.
Demonstrate proper printing technique.
Explain the steps involved in making a print.
Prepare a finished print for presentation.
---
Introductory Activity
Introduce the artist Keith Haring. Show video/look at images of his work. Discuss the motivation he had behind making his work, where he displayed it and the common elements present throughout his work which contribute to his unique style.
---
Lesson Process
Students will begin with idea drawings in the style of Keith Haring. Teacher will demonstrate drawing a stick figure, tracing around the figure to add meat, the addition of lines to show movement and areas of texture. Students will color these finished sketches.
Teacher will demonstrate how to create a monoprint using a gelli plate: putting paint on the surface, spreading it out with a brayer, pressing textures into the paint, putting a piece of paper over the plate, rubbing the back and pulling away to reveal a print. Students will take turns to print a first layer of texture on a piece of paper, with the understanding that this is the background. While students are waiting for their turn to print, I had them working on an illustrated poster to explain to someone outside of the class how to create a monoprint.
The following class, discuss with students the difference between positive and negative shapes, and how to create a stencil. Have them choose a pose from one of their sketches to recreate and cut out using scrap paper. They then used the stencil to print a second layer of color/texture overtop of the background layer. Finished prints will be outlined with black sharpie and given movement lines. Teacher will show students how to properly sign, title and edition the finished print, which will be mounted on a contrasting color background for presentation.
---
Vocabulary
positive and negative shape, texture, Monoprint, Brayer
---
Resources
Keith Haring video: about his work
---
Author & Website/Blog
Nicola Twa at http://gatewayartroom.wordpress.com
---
Supporting Images
Comments