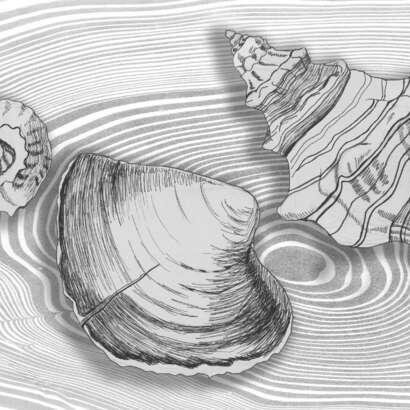 Grade Level
7-8, 9-10
---
Duration
10 periods, 40 minutes long
---
Materials
Fine Tip Sharpies, Micron Pens. India Ink, paper, exacto knives
---
Media
Pen and Ink, Markers
---
Lesson Objectives
For students to practice line variation in creating pattern, value and form in graphic black and white illustrations of shells. To create a background reminiscent of water using sumigashi ink.
---
Introductory Activity
Students can do any number of warm up activities drawing shells in their sketchbook. I usually have them revisit contour line drawing. We discuss the differences of working in pencil versus ink. We look at black and white illustrations and how artists use line to describe their subject matter. We consider engravings and etchings. We consider pen weight. Previously, students have created value scales in their sketchbooks and developed value with different methods of ink including hatching, crosshatching, stippling, scribbling, etc. Students practice with drawing one shell in their sketchbook in pencil. Next, I encouraged students to think about describing the surface, texture and patterns with the variety of lines they learned about.
We also spend time with composition and using three shells. Shells themselves should be picked for variety in size, shape, pattern, etc. We talk about how to space the shells out- how to use overlap to create a sense of space and relationship. When we practice drawing we talk about how size and tension with the edges of the paper as well.
While students are developing their sketches I introduce students to sumigashi with a demonstration. Sumigashi is a Japanese art form of decorating paper using floating inks. There is a YouTube Video in the resources section of My Art Lesson you can use to teach yourself and/or teach students.
Demo how to use an exacto knife and glue as needed with your students when they are ready to cut and glue the sheets of sumigashi.
---
Lesson Process
Students receive final paper (any standard size) and I give them a small card of illustration board to tape their shells down to. My scraps of board where just 3×4 and paper was cut to the same dimensions. The small boards made it easy to store. Students start off with drawing lightly in pencil and thinking through how they describe the shells with linear techniques.
While students are working, you can have small groups create their sumigashi paper. Use newsprint (reminiscent of sand) or copy paper.
Eventually, using a window or light board. students can trace the outline of their shells onto the sumigashi, cut out the shell shapes and superimpose the sumigashi on to the paper and fasten with a light glaze of glue.
When dry, students can create a little cast shadow.
*This assignment could also be completed digitally if scanners and an image editing program is available.
---
Vocabulary
value, texture, line, ink, form, cross hatching, stippling, sumigashi, suminagashi
---
Resources
http://suminagashi.com/overview/
https://www.youtube.com/watch?v=12dSRw5Wzq4
https://www.creativebloq.com/features/10-pen-and-ink-drawing-techniques-and-tips
---
Author & Website/Blog
---
Supporting Images