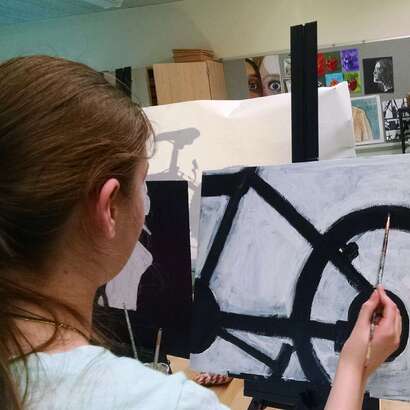 Grade Level
9-10
---
Duration
10 classes, 45 minutes
---
Materials
Canvas board (or canvas paper), white and black acrylic paint, palettes, tabletop easels (if possible)
---
Media
Acrylic
---
Lesson Objectives
Become aware of how to observe negative space for the purpose of improving their drawing and painting skills
---
Introductory Activity
The teacher will set up an interesting still life involving negative space. In this instance I was able to use a bike.
Hang a white sheet of paper or cloth in front of the still life and project light from behind the still life (an overhead works very well).
Look and speak about examples of positive and negative space in design and art.
I often have students practice drawing a classroom scissors as an introduction activity. We talk about the shapes created by the empty space. For example, notice how the thumbhole is differently shaped than the one for the pointer finger.
---
Lesson Process
Have students paint their canvas black
Use white to block in the negative space.
As they realize mistakes, let them use black paint to block mistakes out. Students will toggle between the white and black as they make adjustments. Be sure to tell students this is a normal and expected in the process, no one gets it perfect without this back and forth process.
The white paint doesn't have to "block" the paint completely, this can be a moment to talk about the value of underpainting.
---
Vocabulary
Positive and Negative Space, underpainting
---
Resources
https://www.creativebloq.com/art/art-negative-space-8133765
http://artinspired.pbworks.com/w/page/13819678/Positive%20and%20Negative%20Space
https://www.youtube.com/watch?v=OwAwPA1padM
---
Author & Website/Blog
---
Supporting Images