The end of the year always brings a certain kind of stress and chaos. Portions of students missing for testing, field trips, and whatnot. Early finishers. Lack of motivation- for students and teachers! You just want to call the year done, but you know the phrase, "It ain't over until it's over."
So, some ideas to fill those awkward gaps with fun and engaging activities.

1. Art Games!
Every teacher should have a stash of art games. Some art teacher favorites:
Venn
WatchamaDrawit
Pictureka
Roll-a-miro
HUES and CUES
Mythical Creatures Drawing Game & Animal Art Ideas
Starving Artists Game
Das Kunst-Memo, The Art Matching Game
Modern Art
A Fake Artist Goes to New York
Artsy Fartsy
Doodle Face Game
Starting Lines
Art Out of the Box: Creativity games for artists of all ages
Telestrations
Doodle a Droodle
Colorbrain
Bob Ross the Art of Chill
Happy Little Accidents
Scavenger Art: Creative challenges for curious kids
MonsDRAWsity
2. Pixel Art!
Art teacher Lori Ehlke had students engrossed with these pixel art designs. She put out some pixel art examples (she simply googled "pixel art" but you can also find imagery at Kandipatterns.com) and graph paper. She reports, "My classes were so engrossed! Being the end of the year, I could not get over the calm and focus. Would be great for a sub lesson or filler!" You can buy inexpensive graph paper here.
3. Kumi Looms (aka Kumihimo Braid Weavings)
Art teacher Laura Sullivan Drietz had success with Kumi Looms. She gave Kumi looms to "a very large, LOUD, and not very interested in art 8th grade class that I have a really hard time keeping busy. There have been moments of COMPLETE SILENCE on this last full day of class" with Kumi Looms. Directions: https://prumihimo.com/resources/braiding, patterns/https://www.youtube.com/c/prumihimo, and https://friendship-bracelets.net/tutorials/592. You can buy the thread for it here. Use this presentation on how to make Kumihimo Braid Weavings by art teacher Lyssa Julia.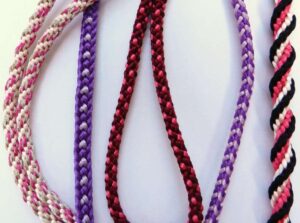 4. Collaborative projects.
Great for early finishers or an end-of-the-year filler when you don't have time for a long-term project. Art teacher Mihaela Marcovici used collaborative oil pastel portraits inspired by Chuck Close. Directions can be found at the Art Factory website, link here.
Another collaborative project is this Neurographic-style class mural by art teacher Chad Brown and students. Watch it evolve here, https://youtu.be/l9iIGkZkQDs. For more on neurographic art, see our lesson.
Art teacher Jessica Lynn and students tackled giant hexaflexagons working in groups of 6 to complete a row of the flat hexaflexagon. Play the video below to see these creations in action. Then 4 groups came together to make the whole thing. "Each triangle is made of foam core board and is 20"x22"x22" (isosceles triangles, equilateral will not work). We used acrylic paint and talked about radial balance and warm and cool colors. This was tons of trial and error and to put them together we had to add tabs on one end by taping paper to it and a row of tag board across one long side so it wouldn't break apart. Duck tape on the inside and packing tape on the outside. We also painted the back of the foam core board after the other side was dry so that it would un-warp." Her presentation can be found here.
5. Animated shorts
Animated shorts can be a fun way to fill time, as well as show how artists tell a story through animation as well as shine a light on a possible career path. Here are a few quality animations you can show. All the animated shorts listed below have been reviewed by myself and I feel they are all appropriate for 5-12th graders. Please see the comments for cautions on content. As always, preview them for yourself before showing them to a class.
Name: "Miles to Fly" by Stream Star Studio, found here.
Length: 7:14
Description: The story is about an ambitious boy who dreams of becoming a pilot but is torn between helping his mother's bakery to survive, or pursuing his dream.
My Art Lesson Comments: The mom in the story is hospitalized, so take care of students who might be sensitive to such a topic. Ends on a positive note.
Name: "Mr. Indifferent" Animated Short Film by Aryasb Feiz, found here.
Length: 2:45
Description: A man who doesn't care for anyone unexpectedly has a change of heart when he saves an old woman's life.
My Art Lesson Comments: Appropriate for all.
Name: "One Small Step" by TAIKO Studios, found here
Length: 7:40
Description: Luna is a vibrant young Chinese American girl who dreams of becoming an astronaut. From the day she witnesses a rocket launching into space on TV, Luna is driven to reach for the stars. In the big city, Luna lives with her loving father Chu, who supports her with a humble shoe repair business he runs out of his garage. As Luna grows up, she enters college, facing adversity of all kinds in pursuit of her dreams.
My Art Lesson Comments: Implied death of a parent, so be sensitive to students who have experienced the loss of a parent. Ultimately, a sweet story with a positive ending.
6. Paper Air Planes
Art teacher Amy Lee Ives suggests showing the G-rated movie Paper Planes, free with Amazon Prime.
Provide copy paper and instructions and have them follow up by making their own Paper Planes.
7. Cleaning!
Cleaning the art room is always a necessary end-of-the-year task. Don't hesitate to involve your student, many hands make light work! The Art of Ed University has a great checklist of tasks. I find a lot of students really enjoy cleaning and even those that don't, usually begrudgingly get into it when they realize they can work with a friend.
8. Get outside!
Andy Goldsworthy inspired work is great at the end of the year after the report card window was closed. Take them outside to collect materials to build and create with and then take photos.
Or do an annual "Chalk the Walk" like Jen Riley-Hansen. I recommend these chalks.
9. Letters for Next Year's Students
Write letters of advice on how to succeed in art class as well as things not to do as well and present them to your new classes as part of your back-to-school presentations to new students.
10. Develop a "legacy project"
A legacy project can be a wonderful tradition for a departing class. Painting stools, bricks, school doors, and ceiling tile (check to see if this complies with your town's fire code before starting) are very common projects. Bateman Secondary School had a unique idea. Students painted the grad parking lot stalls as a fundraiser. Read about it here.
Other ideas from My Art Lesson's Resources:
Art Themed Movies!
Drawing Idioms worksheet
Ceramics Class? No problem. Check out our reading and crossword puzzle about firing a kiln.
Access to computers? Check out these online ideas and online games. I particularly like the Logo Game!
Make a cool art piece with just pencil and copy paper with this lesson.