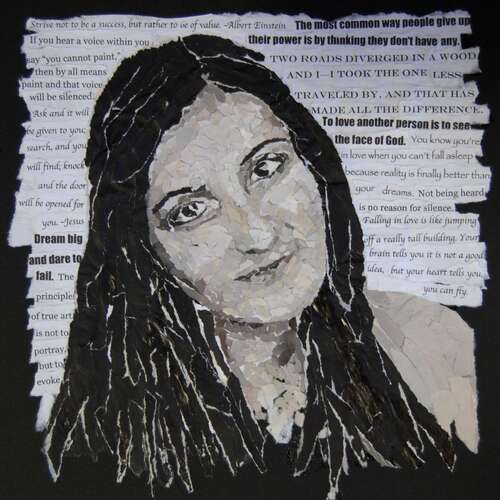 Grade Level
9-10
---
Duration
12-15 classes, 45 minutes
---
Materials
Access to cameras, photo editing program. printer, old magazines, acetate, Elmer glue, acrylic glaze medium
---
Media
Collage
---
Lesson Objectives
For students to identify value accurately.
For students to view areas of the photograph abstractly through shape and value.
For students to lean how to utilize collage as an expressive medium.
---
Introductory Activity
Students will take or bring in digital photo of themselves. Teacher should discuss what makes a good photograph (lighting, composition, and clarity) as well as expressive characteristics.
Look at self portraits of artists like Chuck Close, Jacob Everett, Derek Gores, etc. Discuss the role of value in describing and image as well as using collage as an expressive medium. Also discuss how artists are capturing the persons likeness and what makes the images powerful.
---
Lesson Process
Convert images on a photo editing program to black and white and to a standard size, possibly 12×16 inches. That size has the convenience of being able to be printed on two 11×17 sheets of paper that many printers can do without getting into the expense of large format prints. Students do benefit from working larger rather than smaller, too small and students struggle with collaging small pieces accurately. It's important to think through the steps in advance with the technology you have available to you. Once the teacher has the process down, the teacher can demonstrate the class. If computers aren't available for an entire class, a teacher could prepare them in advance of project.
Tape or glue the images together and lay acetate over. Ask students to find and rip values out of magazines. (Students can often bring in magazines as homework. Some libraries will discard magazines, so ask your school and public libraries). Students can then match up and glue the values on the acetate. It takes a while for students to build up areas and start seeing progress.
Students can apply clear acrylic medium to the top when they are done. Students can often peal the entire image from the plastic sheet and glue down to mat board.
---
Vocabulary
value, value scale, collage, background, foreground, overlapping, composition
---
Resources
https://sgtarr.com/blog/125585/understanding-value-for-the-beginner
If You Can Cut, You Can Collage: From Paper Scraps to Works of Art by Hollie Chastain
---
Author's Website/Blog
---
Supporting Images