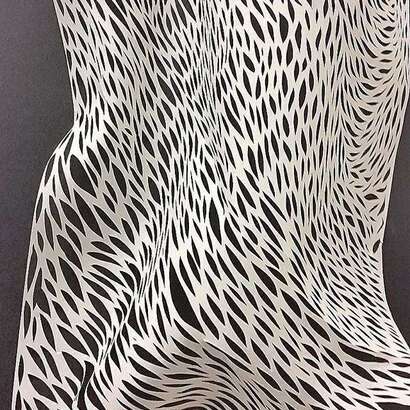 Grade Level
9-10, 11-12
---
Duration
2 weeks
---
Materials
8.5 x 11-inch computer paper, X-Acto knives, and plenty of fresh blades
---
Media
Paper cutting
---
Lesson Objectives
For the student to…
learn the art of paper cutting by creating a spontaneous cut design using geometric or free-form shapes.
Think how the 2-D design can be manipulated, without folding, to create a 3-D artwork.
---
Introductory Activity
So we did a little bit of paper altering with folds. Then we talked about 3D – ness and how sculpture engages with space, especially with the use of negative space.
I have a 3D Paper Pinterest Board and we looked at how a 2D material could be manipulated to a 3D form. We spoke of ways this could be done -EQs. And I introduced alternate ways of making paper "bend" other than folding. I demonstrated with a piece of computer paper by pushing and seeing how far we could bend the paper with curves. Then I cut some negative space shapes to experiment and see if we could manipulate the paper in space more or less by creating "flex".
---
Lesson Process
I use the terms bend and flex with this project to describe the ways the paper can be manipulated to become 3D. The students were asked to create 2 cutout papers, their choices were to use geometric or organic shapes that were either representational or nonobjective. Some of this was to be intuitive as, well as spontaneous, so no drawing was done on the paper. Some students re-started when they were not happy with their designs. I emphasized using narrow lines in between the shapes they were cutting to "free " the bound surface.
Students then manipulated the cutouts to take a 3-D shape. To do this, students used toothpicks with a drop of Elmer's glue to attach the cutout sheet to a white or black backing. They worked with a partner so one student "pinched " or pushed the paper, and the other student would apply glue at the points where it was to be attached and held it at the point for 10 seconds or so.
Notes: A sharp blade makes a huge difference in cutting. To keep track of all the knives, I collected valuables (phones, IDs, books, etc). as collateral for the x-acto knives.
---
Vocabulary
2-D, 3-D, representational, nonobjective, shape, negative space, flex, bend
---
Resources
Pinterest collection of 2D cutouts manipulated to a 3D form. https://www.pinterest.com/artzheart/3d-bending-planes/?invite_code=7af7a52bb8474fefbe790637e2c598f4&sender=31736509782557927
---
Author & Website/Blog
Vivian Moreira Komando
---
Supporting Images