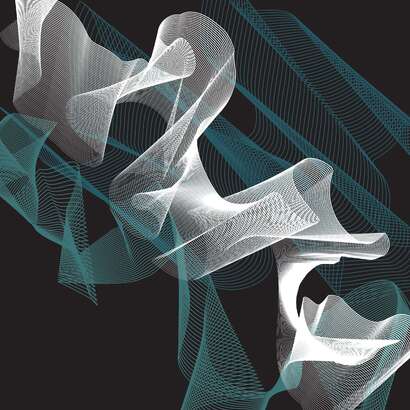 Grade Level
---
Duration
3-4 classes of 45 minute length
---
Materials
Computers with Adobe Illustrator, Printer
---
Media
Digital
---
Lesson Objectives
To understand the blend tool in Adobe Illustrator.
To create an abstract composition using line, line weight and movement.
To use color effectively to create contrast and emphasis.
---
Introductory Activity
Introduce students to the blend tool in Illustrator. The can use the pencil tool to freeform two curved lines OR use the pen tool to design a custom curved line
Next, set up your blend options by going to Object>Blend>Blend options. Select Specific steps in the drop down and input how many lines you would like (experiment). With both line selected (Click and shift both lines or click and drag a box over both lines to select) and go to Object>Blend>Make to see results.
Warning: There are limits to the program and the programs ability to execute this at times. If you get weird effects or blank areas, you have asked for the impossible or too complex. Scale back, add space, etc until it works.
---
Lesson Process
Ask students to design an abstract image with these dancing lines. Variations they can experiment with include line weight, color, amount of lines to blend with, etc. When you apply the blend you can use the direct selection tool to change the line and blend instantaneously. Experiment with sets you create like this and overlap them. Think about composition as well as color and contrast. Add a solid or gradient in the background.
---
Vocabulary
---
Resources
https://helpx.adobe.com/illustrator/using/blending-objects.html
https://www.youtube.com/watch?v=nmP5K9a4uZM
---
Author & Website/Blog
---
Supporting Images
Comments