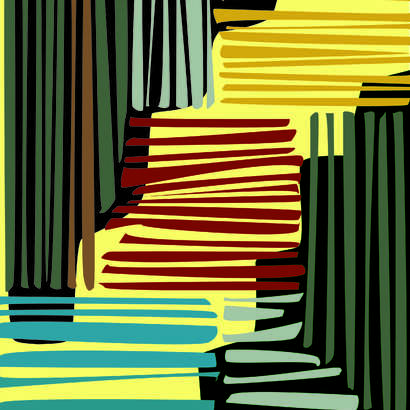 Grade Level
11-12
---
Duration
7 periods, 45 minutes in length
---
Materials
Computers, Adobe Illustrator, Printer
---
Media
Digital
---
Lesson Objectives
Students will learn about the art of quilt making and the historical significance of quilting to the community of Gee's Bend.
Students will draw inspiration from the quilts of Gee's bend to create their own quilt inspired design.
Students will gain skills in designing abstract images working primarily with shape and color and the principals of design.
Student will learn necessary Illustrator tools such as the pen tool, shape tool, color tools, and clipping mask tool, etc.
---
Introductory Activity
Look at the quilts of Gees bend and compare them to 20th century color field artists like Mark Rothko, Kenneth Noland, Robert Motherwell, and Richard Diebenkorn.
Identify how color and shape are used with the principles of design to create strong compositions. How are these art works (the Gee's Bend quilts and the color field painters) alike and different? How does the media effect how the art work is received? How are these art bodies entwined with history?
---
Lesson Process
Students will create sketches 3-5 sketches of designs inspired by gees bend. Students can start with a rectangular shape but avoid using straight lines, avoid using rulers! Look at the overall shape of the Gee's Bend quilt shapes for inspiration. Divide the rectangle with shapes, staying close to the type of shapes observed- rectangular, square, triangular, etc. Look for bold, improvised geometric designs.
Select the best sketch to photograph or scan. Place the sketch into an Adobe Illustrator document. Trace the shapes using the pen tool. When traced, duplicate the artboard and contents and experiment with different color schemes.
---
Vocabulary
balance, rhythm, emphasis, contrast, geometric, vertical, horizontal, proportion, unity, movement, monochromatic, variety
---
Resources
https://www.smithsonianmag.com/arts-culture/fabric-of-their-lives-132757004/
https://www.npr.org/templates/story/story.php?storyId=970364
https://www.pinterest.com/myartlesson/gees-bend/
https://www.youtube.com/watch?v=l3GBIgDWSD8
---
Author & Website/Blog
---
Supporting Images