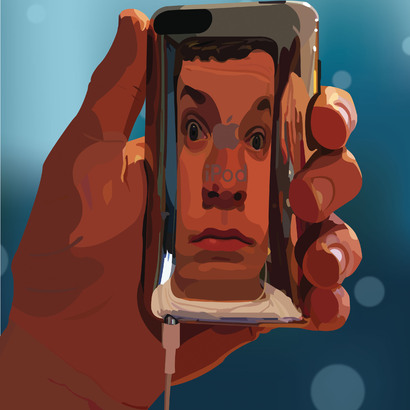 Grade Level
11-12
---
Duration
10 45 minute periods
---
Materials
Camera, Adobe Illustrator
---
Media
Digital
---
Lesson Objectives
For the student to:
Master Adobe Illustrator vector art skills, pen tool skills and layers in particular
To use create a compelling portrait (my be a portrait of a self, friend, or family) using reflections in a way that challenges the student compositionally.
---
Introductory Activity
First, we speak about art and reflection as well as look at examples. Check out My Art Lesson's Pinterest Links in link Resources of this lesson. You might use Van Eyck's The Arnolfini Portrait which is also a double portrait. Or The Two Fridas, 1939 by Frida Kahlo. Even Rockwell, Norman Perceval for humor. Look at Esher's Hand with Reflecting Sphere.
We speak about realistic reflections, distorted reflections and even symbolic reflections.
Students brainstorm on objects that are reflective.
---
Lesson Process
Students will develop a bank of ideas and be asked to take photos, create sketches, bring in objects, etc to prepare. It's important they have an original and compelling image to work with for the assignment.
In my curriculum, students have developed solid skills in using the pen tool in illustrator so we are building to creating more complex images. At this pint they already know how to create and modify a shape using the pen tool. Students are introduced to creating layers now to help create organization to exceedingly complex images.
---
Vocabulary
layers, Pen tool, vector art. reflection, Esher, Adobe Illustrator
---
Resources
https://www.pinterest.com/myartlesson/reflections/
---
Author & Website/Blog
---
Supporting Images