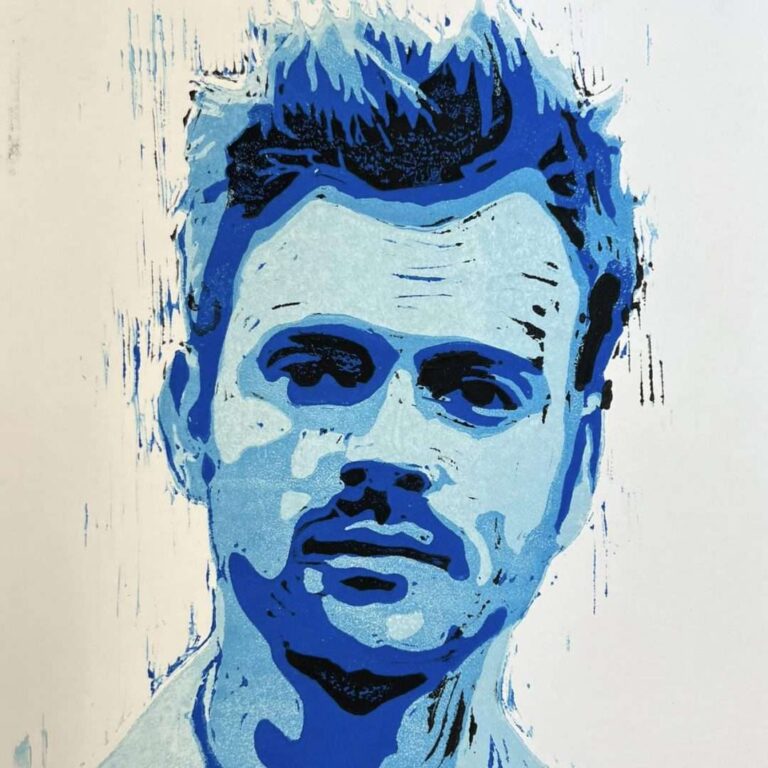 Grade Level
9-10, 11-12
---
Duration
12-15 periods, periods are 40-minute periods
---
Materials
Photoshop (or similar program), printer, Speedball Speedy-Carve Block Printing Carving Block (or similar material, or linoleum), benchbook/ink plate, speedball ink, 90lb paper (cut to 9×12 to match the size of blocks), brayer (roller), lino cutters, printing press or hand, wooden spoon and/or baren for hand printing.
---
Media
Block Printmaking
---
Lesson Objectives
For the student to:
• Use technology to manipulate the photo to three colors in preparation.
• Understand the vocabulary and techniques of printmaking.
• Planning for printing order of colors for correct layering.
• Create a 4-print edition of a 3-color reduction print.
• Correctly use registration in the printmaking process.
---
Introductory Activity
Depending on the level of experience in printmaking, you may need to introduce your student to the general idea of block printmaking. Most students have experienced using a rubber stamp in their life and block printing is similar. Printing allows for multiples of prints to be made, or "editions." Stamping is also a quick way to show students the way a print is created in reverse. For example, if you were printing a word, it would need to be in reverse order on the block to print in the orientation we would "read" the word. (See YouTube video in resources).
In this lesson, the teacher asks the students to choose a celebrity and find a good-quality image to work from. The assignment could be self-portraits, or other topics depending on the preference of the teacher.
Students next put the image into photoshop, convert it to black and white, and posterize it to three values.
---
Lesson Process
Once the photo is prepared, students transfer the image onto the block (you can use transfer paper or shade the back of the photograph and trace over it while taped down on the printing block) and begin cutting away from the lightest color to the darkest over printing after each color is cut away.
The teacher asks students to start with 8-10 prints with the goal try to get a 4-print edition that looks similar.
---
Vocabulary
value, wildlife conservation, composite, cross-hatching, scumbling, stippling, social justice art
---
Resources
A video for how to posterize a photo into three values, https://www.youtube.com/watch?v=Bmr–OiRDkQ
An example of why/how a print has to be planned in reverse, https://www.youtube.com/watch?v=Bmr–OiRDkQ
A video to watch to see how a three-color relief block is created, https://www.youtube.com/watch?v=kJCpjMFsrlw
---
Author & Website/Blog
James Parisi
---
Supporting Images