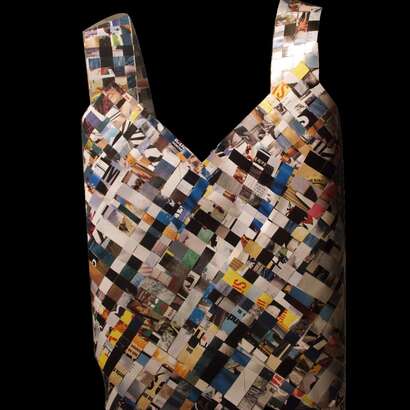 Grade Level
9-10, 11-12
---
Duration
10 classes, 45 minutes
---
Materials
Any material that is available for upcycling goes. Nice to have would be a dress form but students can use their own bodies as well.
---
Media
Mixed media
---
Lesson Objectives
The students will…
Exploring the social and environmental cost related to clothing and fashion
Discuss and make choices based on issues related to resource use, climate change and human consumption and waste as it relates to caring for our planet
How to use fashion as a means of creative individual expression through making upcycled wearable garments
---
Introductory Activity
Start by introducing the lifecycle of clothes to your students. Students could research and present different aspects of the clothing industry for the social and environmental impact. You could opt for students to do an Internet scavenger hunt (a fact-finding exercise where students answer a list of questions). In resources there are some links for websites that talk to the life cycle of clothes.
---
Lesson Process
I used to give this as part of a summer AP packet but it is definitely something that could be translated into a class project. For in class assignments I would recommend approaching it as a group assignment.
Have students brainstorm on resources that are readily available FREE. Talk about community resources that might be tapped (freecycle, free community facebook groups, businesses that might donate materials like cardboard, etc). What is in their own basements being unused?
Start with a Vision Boards or a Mood Board. For this purpose, I am not going to differentiate. This board is a place to collect the images that inspire you, and that you wish to manifest either in elements or complete form later. Use the boards to convey an idea or a theme. Students can start sketching and think about material uses. Then start exploring with the materials. And finally, creating.
---
Vocabulary
texture, form, recycle, trashion, upcycle, mood board
---
Resources
https://www.youtube.com/watch?v=BiSYoeqb_VY
https://www.youtube.com/watch?v=BiSYoeqb_VY
https://levistrauss.com/wp-content/uploads/2015/03/Full-LCA-Results-Deck-FINAL.pdf
https://www.pinterest.com/myartlesson/trashion/
https://www.youtube.com/watch?v=KHwjP9A09Pg
---
Author & Website/Blog
---
Supporting Images